Headed to North Coast Music Festival? We have a few tips for you first time coasties!
1. Don't get wasted
It's so easy to fall into this trap. You're with your friends seeing your favorite bands and artists! But you don't want to be that too drunk person, throwing up in the porta-potties and stumbling. You will end up either missing the shows you want to see and/or not remembering the ones you did see. Not only will you ruin the experience for yourself, you will ruin it for your friends. Enjoy drinking with moderation.
People on the Internet are a lot like drunk people at a music festival…they seem to think they're actions don't affect others.

— Jana Sproule (@JanaSprouleIMA) August 10, 2015
"Don't get too drunk" goes along with this next tip…
2. Have a way home
This is not a music festival where you camp out and the only concern is finding your campsite at the end of the night. Whether you are staying in a hotel or commuting home or to a friend's house, you need to make sure you arranged a way to get there. If you're carpooling and traveling with a group of friends, decide ahead who will be the designated driver. If you want to be nice and fair, you could even switch off each night who will be the DD. Traveling solo or can't decide who will be the DD? There are multiple options to choose from that can get you safely back to your destination. Take a cab or call an UBER! In fact, Uber is providing new users with rides at a discounted price.
When you try to manoeuvre a festival campsite at night and tent guide lines are everywhere https://t.co/2dXztW5y26

— Sammy (@afc123sam) August 10, 2015
3. Drink plenty of water I've seen many people pass out from dehydration at festivals. Not drinking enough water is dangerous for your health and like drinking, will ruin your time. You are paying for the experience and music, why waste your money? Click HERE to find out where the FREE water refill stations will be. There you will also find options for more ways to travel from the festival as well as other ways to stay responsible.
It's rly sad when u need water in public but you can't just ask a stranger bc ur not at a music festival :/ — iretii (@rayyyti) August 10, 2015
4. Check the Prohibited items list
You will be surprised at what they will not allow you to bring into the festival. This year when I went to Electric Forest, I had so many glowsticks. I had wands, necklaces, bracelets, glow balls, if it glowed, I had it. Well, come to find out glowsticks aren't allowed in the forest. Every single glow item I had was confiscated and I was left sad and glow less. Being naïve and a lover of glowsticks, I tried to bring glowsticks into Mad Decent Block Party as well. They too were confiscated.  Learn from me; check the prohibited list beforehand so that you aren't disappointed.
It's so funny seeing the difference between how security checks you at a concert and at a festival

— sour patch panda (@PLURoverYOLO) August 16, 2015
You can find a list of all the prohibited items HERE (Glowsticks are on it BTW).
5. The fun doesn't stop after the festival is over
When the shows are done for the night, the music doesn't stop. Nights owls and those who don't want the fun to stop will have a variety of after parties to choose from each night.
The list can be found HERE.
Image via [quickmeme].
6. Most importantly, have fun! Live in the moment
Enjoy every second. This year I had a friend who was so worried about his girlfriend paying attention to him during Electric Forest, he didn't realize how much fun he had until after it was over. It wasn't until he looked back his experience that he realized that he was in this magical place with great friends, people, and music. Live it up and have fun at NCMF 2015!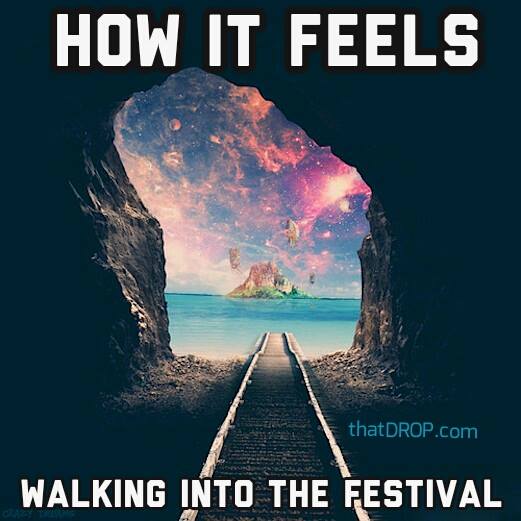 Image via [that Drop].
Cover image via [NCMF].